Indian Man Marries Dog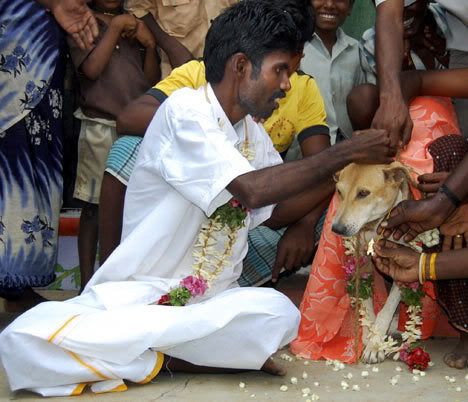 An Indian man named Selvakumar has married a stray dog to break 15-year curse.
Mr Selvakumar, believed he had been cursed for stoning and clubbing to death two dogs he found engaged in sexual intercourse.
He then hung their carcasses from a tree and that's when his personal suffering began.
Kumar told the Hindustan Times newspaper:
"After that my legs and hands got paralyzed and I lost hearing in one ear,"
An astrologer told him the only way to remove the curse would be to marry a bitch (female dog).
In a ceremony fit for any beautiful Indian bride, the bitch, a former 10-year-old stray named "Selvi," was bathed and dressed in a ceremonial orange sari with a garland of flowers adorning her neck.
She was then brought to the temple in Tamil Nadu to be presented to Kumar by members of his family.
Kumar, sitting beside his bride, recited his marriage vows, declaring:
"I will take care of it until its death." Then, the "couple" was declared married."
No word on where the couple would honeymoon or reside.

Category: India News