Polls Who Won The Debate?
According to the latest polls Obama is the winner of the first debate.Polls who won the debate from CNN/Opinion Research and CBS are below.
CBS poll:

Thirty-nine percent of uncommitted voters who watched the debate tonight thought Barack Obama was the winner. Twenty-four percent thought John McCain won. Thirty-seven percent saw it as a draw.

Forty-six percent of uncommitted voters said their opinion of Obama got better tonight. Thirty-two percent said their opinion of McCain got better.

Sixty-six percent of uncommitted voters think Obama would make the right decisions about the economy. Forty-two percent think McCain would.
CNN poll:

Thinking about the following characteristics and qualities, please say whether you think each one better described Barack Obama or John McCain during tonight's debate:

• Was more intelligent: Obama 55%, McCain 30%

• Expressed his views more clearly: Obama 53%, McCain 36%

• Spent more time attacking his opponent: McCain 60%, Obama 23%

• Was more sincere and authentic: Obama 46%, McCain 38%

• Seemed to be the stronger leader: Obama 49%, McCain 43%

• Was more likeable: Obama 61%, McCain 26%

• Was more in touch with the needs and problems of people like you: Obama 62%, McCain 32%

• The economy: Obama 58%, McCain 37%

• The current financial crisis: Obama 54%, McCain 36%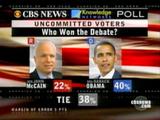 That's all we have for now on Polls Who Won The Debate?
Category: US News